As I get up to speed with my blogging here, here are some things worth mentioning:
1. The Mindanao Bloggers Summit 3 in Cagayan de Oro City is a go on October 24, 2009. There is a minimum fee of P500 which covers expenses throughout the sessions including food and a city tour, and there is an option to go white water rafting for P1,000. Sounds like fun! Kudos to the organizing team led by Chiq Montes.
2. The Philippine Blog Awards is going to Mindanao! Yes, the PBA will be held in tandem with MBS3! Special awards to be given out are Mindanao Advocacy Blog, Mindanao Photoblog, Uniquely Mindanao Blog and Mindanao Destination Blog.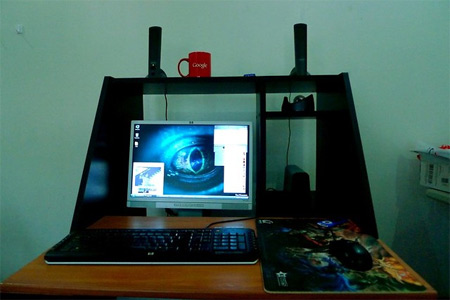 3. Nokia OVI spokesperson Jayvee Fernandez blogged about a contest where you upload a pic of your workstation and get a chance to win P2,000 in gift certificates and a Nokia phone. I submitted mine, but I doubt that I'll win 🙁 But mine doesn't look so bad, right? More details here.
4. I just got back from a trip to 3 countries – Singapore, Thailand and Malaysia. I had a blast, except for injuries I sustained while doing a Superman stunt on a walk-on conveyor. Read about it in my personal blog.
5. I recently launched a blog with my friend Aileen that's dedicated to our favorite beverage — TEA! There are only two entries so far, but there's more to come, I promise! Once Aileen gets her Internet back, she'll start posting too. Head over to Tea, Completely.
6. I *really* hope I can revive this blog of mine. I wonder why people still keep visiting but I'll try the best I can to keep it that way. I tend to over-analyze when writing an article for Alleba Blog and that burdens me a lot. My real style of writing could be seen on my personal blog, which is more relaxed and free-flowing. I'll employ that tone here from now on. Should be great. Might I mention that I made some real cool purchases in Singapore which I look forward to sharing with you guys.
7. I wasn't at Wordcamp Philippines 2009 for several reasons. Most of them I could not mention here. But let me say this. Leadership doesn't mean sitting around, acting like a diva and think you can treat people like slaves. Wordcamp 2008 was a success because the team worked as equals. That's not to say Wordcamp 2009 wasn't a success, but I'd go as far as saying that Chattee, Lyle, Brendel and Jim did a splendid job in turning things around and making the event an enjoyable one.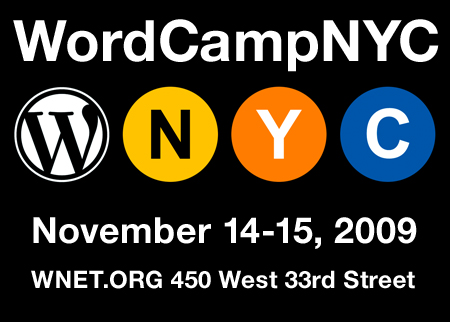 8. Wordcamp NYC is now using a logo that I made for their event. I didn't expect to win. Actually, four of us won! LOL.
That's all for now. More updates coming soon!