I wrote about a free website monitoring service called Montastic last January and thanks to them I figured out how really sucky my webhost is. Not all my sites are what you would call extremely successful, but I'm proud to say that they bog down their respective servers from time to time. Anyway, for quite a while I was thinking how cool it would be if Montastic would send me an SMS everytime they find my sites to be down. Easy.

(If you haven't registered yet, go to Montastic.com to do so)
On the righthand menu of your web panel, click on change or add emails.
Under Managing email addresses, enter the mobile email address corresponding to your cellular phone carrier:
Verizon: 10digitphonenumber@vtext.com
Former AT&T customers: 10digitphonenumber@mmode.com
Sprint: 10digitphonenumber@messaging.sprintpcs.com
T-Mobile: 10digitphonenumber@tmomail.net
Nextel: 10digitphonenumber@messaging.nextel.com
Cingular: 10digitphonenumber@cingularme.com
Virgin Mobile: 10digitphonenumber@vmobl.com
Alltel: 10digitphonenumber@alltelmessage.com OR
10digitphonenumber@message.alltel.com
CellularOne: 10digitphonenumber@mobile.celloneusa.com
Omnipoint: 10digitphonenumber@omnipointpcs.com
Qwest: 10digitphonenumber@qwestmp.com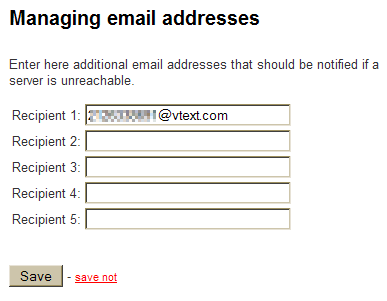 Click Save to add the email address to your profile.
Montastic claims to check your site every 10 minutes "at the minimum", which is better than other free services I have checked out. So far, they have been doing their jobs properly. By adding this SMS feature, you can immediately act on a problem when it arises, whether you are at your computer or not.
Thanks to Republic of Geektronica for the list of carriers.