I decided to put my blog to the test using CrazyEgg's heatmap visualization after all the rave reviews it got from the likes of Matt Mullenweg, David Hansson and TechCrunch. Unfortunately, since I inserted the required Javascript code, I'm getting errors from both Firefox and IE.
Screenshot after the jump.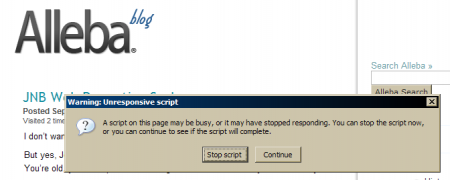 The Firefox error box says:
Warning: Unresponsive script

A script on this page may be busy, or it may have stopped responding. You can stop the script now, or you can continue to see if the script will complete.
If I press continue, the page does load. This only happens when I click on the Alleba blog logo and not on the other links.
Just to make sure, I took out all the other Javascript references from my template. Still the same error. Next, I reinserted everything back and removed the CrazyEgg code. No more errors after that. This problem might just be happening from my end, so I'm not 100% positive that there's something wrong with CrazyEgg's application. I'll try this again tomorrow and test with different computers.