I fell too much in love with my customized Alleba email courtesy of Gmail for domains that I completely neglected to do my piece on Yahoo!'s new beta mail interface. What better time to do it when I've slightly gotten over the whole Gmail affair.
I have been using Yahoo! Mail Beta for slightly over a month now. No, I didn't lie about my zip code just to try it, as I am aware that only the French and the Germans get to use it.
First, the bad stuff. My biggest and initial complaint with the new interface is it's slow as hell. To think I am on DSL — but then again it's PLDT Mydsl (which explains a lot). But that's already beside the point. While I was logging in, this weird kid on a bouncing ball appears on the screen: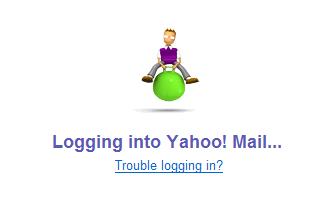 A bad distraction for the full 20 seconds it takes for all the AJAX (or Asynchronous Javascript and XML) components that make up the new look to load. Yeah, 20 seconds. I timed it five times. Gmail, which also depends a lot on AJAX, takes only 9 seconds to load up. In all fairness though, those 20 seconds become a thing of the past when you see Yahoo! Mail's sleeker, more streamlined GUI: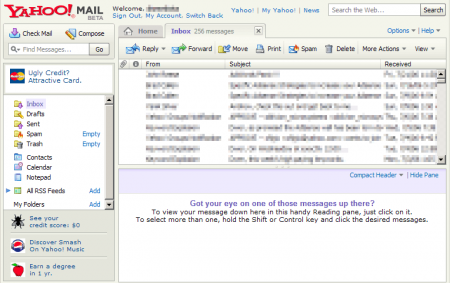 Yahoo! put a lot of thought and hard work on this one. I can't help but call it a clone of Microsoft Outlook, but better as it integrates some of Yahoo's existing services and features such as the spam filter, contacts and RSS reader. I look forward to seeing the Calendar and Notepad integrated as well. Just like a desktop application, some keyboard functions are supported. The RSS reader is a great addition. All my feed subscriptions (via My Yahoo!) are automatically included so I don't have to re-add them one by one.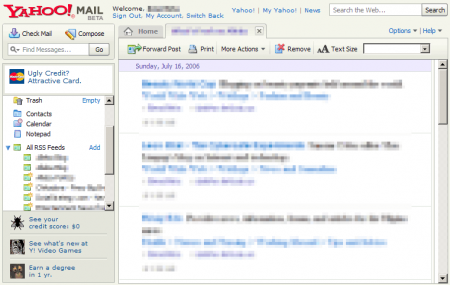 In the long run, I'll still be very concerned about the tedious loading time and the sluggishness I experience while going through new messages or simply scrolling down my message list. Nevertheless, I doubt that they'll cut any corners to reduce the amount of AJAX in this app because Yahoo!, as evidenced by their snappy new homepage, is obviously steering towards the Web 2.0 direction. With Google using AJAX like it's detergent (heh), I think it's only right that Yahoo! follows suit. But in all honesty, Yahoo! Mail Beta, although a good effort, is a bit overdone for me. For the more pragmatic set of email users, the old Yahoo! Mail is still the best way to access mail because so far the features that Beta has, isn't worth 20 seconds of waiting time.