Today my WordPress plugin, Daily Top 10 Posts, won during the 2008 Philippine Blog Awards for best blog plugin/extension. Initially I was glad to hear that I made it as one of the finalists, as did Ria and Winston, who got multiple noms for their nicely written blogs. But ultimately it was meaningful for us because we are very good friends who all hail from Davao City and in a sense we are representing the often overlooked Mindanao region. In total we received seven nominations, which was awesome. We won two. Winston bagged the coveted Bloggers Choice Award and a Nokia N95 to boot.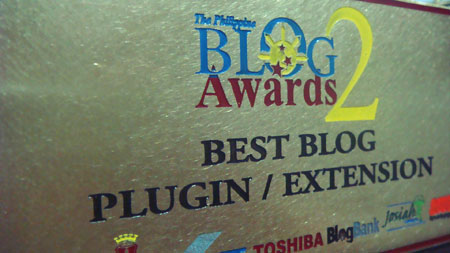 I'd like to thank the PBA organizers, judges, volunteers and staff for a job well done. This award means a lot! Thanks to Jehz for picking up my trophy for me and for being our all-around supporter! Hope to be at the 2010 PBA 😉 Edit: And 2009 ;p

Exclusive intro video for my category made by Adobe After Effects Master Fritz Tentativa.