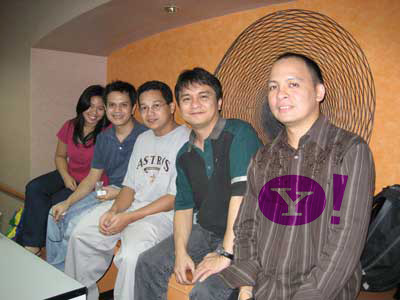 This is sort of a preemptive post since I said in my earlier one that the contest will end on May 8. Now is May 6, what's the hurry? First of all, the day after I started the contest, AJ, always faster than a speeding bullet, made his entry here. His answer is Jonas delos Reyes. And guess what, he's RIGHT!
To mark his Yahoo debut, Jonas makes his first official blog post on the Yahoo Philippines Answers blog:

Secondly, it's to welcome me on my new job. As some of you may know already, I was recently hired to be Yahoo!'s Community Manager for the Philippines and it's simply a thrilling experience to represent Yahoo! and be part of the team that makes sure that services like Yahoo! Groups, Yahoo! Answers and Flickr continue to empower Pinoys and help us grow a meaningful and responsible Pinoy online community.
I'm sure local users of Yahoo are extremely excited about this development. And it could only mean one thing: more events for us! Hurray, but hopefully Jonas won't forget his friends here in Mindanao ;_;
Congrats to AJ for winning my first ever contest. The DTI permit # actually spelled out his first name, if you didn't notice.
To AJ: Please email or DM me your Paypal email to receive your $25. The amount may be a little less because Paypal charges a transaction fee. Watch out for more blog contests only here at Alleba Blog!
Yahooooo!