Techcrunch recently profiled Wablet, a Filipino Web 2.0 startup offering IM services similar to that of Meebo. Mike Abundo of the Mike Abundo Effect, claims that Wablet "will blow away Meebo". What's strange though is how its developers are wrapping this project in utter obscurity. Not even Abundo can provide details on how the purported "blowing away" will happen.
I did a little digging (since I'm good at it IMO).

My best guess is Wablet is somehow connected to FBM Software, an internet security and anti-spyware company operating both in the USA and in Makati City, Philippines. Back in May, they were looking for a Senior Developer to be based in San Francisco, CA. A firm affiliated with FBM has its base of operations there.
What Wablet can offer is what's the most intriguing. This fellow named Donald Martinez (who works for FBM) says that a patent was pending for a project he was working on in a post he titled "Wablet!" and that it was still in a buggy stage. His article was dated July 21st, so I assume that it'll be a while before we can test it.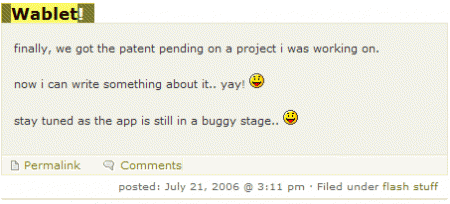 Martinez looks like an expert in Flash, so there should be a lot of flash elements inside Wablet as opposed to Meebo that utilizes mainly AJAX. I tried to search for the patent Martinez was talking about but had no luck with that. I'm gonna have to search a bit more later.