March 3rd, 2011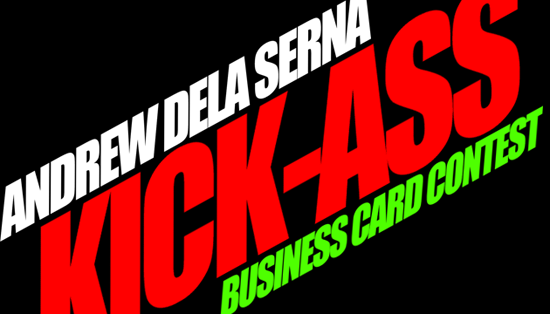 In lieu of my previous blog post, Awesome Business Card Ideas, I'd like to start a contest that'll challenge your creativity and craftsmanship. Not many bloggers, including I, have their own business cards ready when the situation calls for it. Why is it important? The gesture of handing out a business card imparts professionalism and courtesy. It shows that you're serious about what you do, and you want to leave that impression on the person you're giving it to. The person may or may not keep the card, but if it looks fantastic, there is a big change that he will.
The challenge of this contest is not to create just a business card. I want a business card that tells a story — your story as a blogger. No, I don't want your autobiography printed on the card. Be creative! Use colors, paint, textile, cement, samurais and stardust. Whatever it takes, I want it to be original and kick-ass! Look around for inspiration. Google is your friend 🙂
What's at stake:

1. Fame… and
2. Fortune… the winner receives $100 or peso equivalent at prevailing rate.
3. Link love… winner gets a link on my sidebar for 6 months and a blog post featuring the winning business card design. First and second runners-up also get links in the blog post.
The rules:
1. This contest is open to all active Filipino bloggers or bloggers of any nationality residing in the Philippines.
2. The blogger must create, design and print actual business cards to qualify.
3. The blogger must submit two (2) photographs of the business cards, printed and cut, in quantities of five and different angles. (send to andrew at alleba dot com)
4. The blogger must submit corresponding PSD or AI files. (send to andrew at alleba dot com)
5. The blogger may submit up to three entries.
6. For each entry, the blogger is required to write one blog post containing the photograph of the final product and a link back to Alleba Blog (http://www.alleba.com/blog/). The blogger must then leave a comment below containing the URL of the blog post.
7. For more chances of winning, follow me on Twitter (@andrew_ds). I'll be raffling off $25 to two random followers who hollers this line at me: "I want $25, @andrew_ds!".
8. You have 21 days to make your submissions. That's March 24, 2011!
8. All winners will be announced on March 27, 2011.
Good luck!
Posted in Contests