December 10th, 2006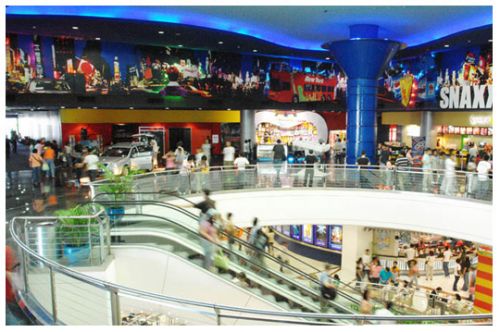 Today I ate lunch with my family at the Gateway Mall in Araneta Center. We were choosing between Italianis and Cafe Adriatico, but settled for the latter after a lengthy debate. After eating my meal of Adobo Spareribs, I wished we went for Italianis. The food there is just way better. But still I enjoyed my dessert of Suman sa Lihiya paired with a shot of Chocolate Eh (pronounced cho-ko-lah-teh — eh).

In the evening, I hit the Greenhills Shopping Center with my cousin. We ate at Teriyaki Boy. With guarded optimism I ordered the Gyu Saikoro Don and California Maki. The Maki was good, but my meal wasn't. The bean sprouts tasted odd while the beef chunks were too raw (like disgustingly purplish raw). So I had it recooked. Sheesh, I guess this is what I would call a bad food day.
We crossed the street to enter the Theater Mall. The place was acting crazy. Cheap clothes, hagglers were everywhere. Despite that, I only went to my two favorite stores: Structure and Quick Change. I think they have the best selection of men's clothing, well at least my kind of clothing. I got a couple of snazzy Ferrari crew neck shirts, a faux Armani and Abercrombie. Yeah, they're fake. Arrest me. Next, we went back where we came from to the Fully Booked bookstore at the Promenade. I bought my manita (secret santa/kris kringle) the first Eragon book by Christopher Paolini. I went a little bit above our minimum price limit of 300 pesos. Haha. Yeah we're cheap as hell.
* * * * *
I was supposed to leave for Davao yesterday (Sunday) but the weather forced me to cancel it. Ok, that was a bit sterilized. Actually my dad was too freaked out by the storm in the Visayas. He made me cancel my trip. Tomorrow, I'm going to Makati!
* * * * *
Marc talks about What Popularity is in his blog, referencing another article on The Most Popular Blog Posts of 2006 by Michael of Basang Panaginip. My take on this is that popularity is subjective and it's good that Marc pointed out that there are a lot more buzzworthy posts that Michael missed out on.
Points to ponder:
1. A blog is only truly "popular" if you participate in it. You don't necessarily have to like the blog, but at least find it provocative enough to engage in healthy discourse with other readers of that blog. Michael's initial list tilted toward blogs he was most familiar with.
2. One popular post doesn't equate to a popular blog. A single buzzworthy post isn't a bad thing, but it is also important to leverage on that buzz rather than sit on your laurels. My post on creating a Web 2.0 logo generated a lot of unexpected buzz which Michael took note of. But it's my plugins that are consistently driving traffic and good inbound links. I believe in creating long-term value.
3. The number of backlinks pointing to a blog post is not a reliable yardstick of its popularity. One word: spam.
4. Popularity comes in many shapes and forms: useful (tips/tutorials), funny (offbeat stuff), interesting (scientific discoveries/breakthroughs), novel (new, surprising stuff), unique (things unheard of), controversial (political/celebrity scandals), offers (free stuff/giveaways) — but it's the useful, no matter how old, that creates value and enough reason for your visitors to keep coming back for more.
Marc also hints on branding as the ultimate goal for bloggers. IMO, not many Filipinos have achieved this yet. But I wouldn't call it "branding", but more on "keywording". When I think of Abe, several keywords come to mind: blogging, guru, always traveling. Marc: seo guy, seo philippines. J. Angelo: busy problogger. For myself, please make me the Davao guy. 🙂
* * * * *
I was halfway through with this post last night when my leeched wifi conked out on me. Thanks to my lovely neighbor for, unbeknownst to him, sharing his Internet.